Stop by and see us at Petco in Sequim every Saturday from 10 a.m. until 2 p.m. We always have cats available for adoption and we will bring a dog when we have one that we feel will do well in a busy environment filled with distractions.
Visit Petco any day of the week to see our resident cats. We have two cats living at the store and available for adoption.
At the Olympic Peninsula Humane Society, we are committed to caring for and finding permanent homes for the homeless animals of Clallam County. As an open admission shelter, we take in any animal that is brought to us. We do not turn animals away. Each year approximately 2,000 animals are brought into the shelter. We rely on the generosity of our community to help care for our residents. Thank you to everyone who makes a donation or adopts an animal into your family.
Pet of the Week: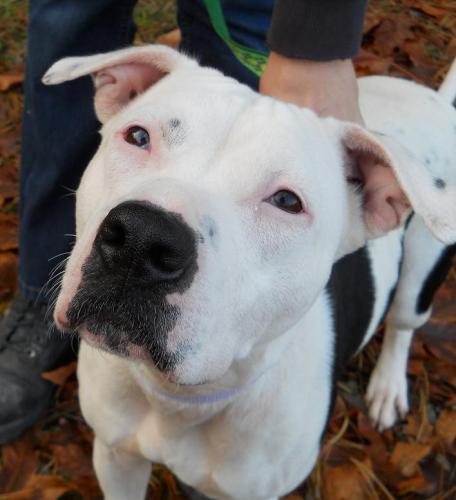 Jersey is a super cute little pit bull. She is, young, spayed, in good health and a great size at only about 45 lbs. She's a calm girl and has shown us that she is willing to learn if you're willing to offer treats! Though, she does have issues with food allergies, so a non-chicken, grain-free food would be a necessity.
Jersey does very well with older kids, *some* dogs, and she lived very successfully with a cat in her previous home. Jersey also needs a securely fenced yard and plenty of walks to keep her well exercised and content. She is NOT the type of dog you can just leave in the yard all day… If you are looking for a neat little pit bull girl to keep you